eCMEs – Why should you invest in them?
Aug 20, 2021
There is no debate on how important CMEs are in a medical professional's life. Not only are they necessary to meet a physician's license requirements, but they also help physicians stay updated with the latest advances in their speciality and deliver better patient care. However, both organising and attending CMEs are often expensive and time-consuming.
Given the current COVID situation, where organising traditional face-to-face CMEs has become challenging, online CMEs have a greater role to play in keeping physicians up to date. The last 12 months have also brought about a change in the behaviour of physicians - making them more open to digital platforms, which is expected to sustain even post-COVID.
In this blog, we examine how eCMEs (CMEs that are delivered directly to a doctor over the internet) perform vs. expectations and what can be done to make them more effective.
---
Do eCMEs deliver on their promise?
In a country where education is now routinely delivered on mobile devices, it was only a matter of time before eCMEs became more of the norm than an exception. The pandemic merely expedited the trend towards eCMEs after offline meetings became nearly impossible to conduct amidst the lockdown restrictions. But how do eCMEs compare with the conventional offline approach?
Reasons like limited 2-way interactions, lack of networking opportunities among participants and technical challenges such as poor internet speeds have often been cited as the challenges that limit the effectiveness of online CMEs. A lot of these challenges have already been addressed as better technologies and products evolve in the market bringing eCMEs to a state of parity vs. their offline counterparts. However, online CMEs have some unique advantages to offer on their own.
Unique advantages online CMEs offer

---
Case study
To substantiate the above points, we would like to share our experiences from an eCME called 'Diabetology in Primary Care' that we conducted recently on M3 India.
The primary objective of the CME was to upskill the primary care physicians in managing type 2 diabetes. General practitioners are often the first point of call for patients and actively manage many diabetic patients especially in areas with poor access to specialists. The total duration of the CME was 2 hours 35 minutes, split across 6 video modules.
The CME was certified by RSSDI and was supported by a leading pharmaceutical company in the diabetes therapeutic area. Doctors who completed all the 6 modules and received a minimum qualification score in the assessment quiz received a certificate of completion from RSSDI.
The first 3 modules focused on the basics of managing diabetes - screening and classification, treatment approaches, managing complications while the later 3 modules focused on topics that are rarely discussed in India – patient communication, managing diabetes in special populations and lastly, setting up a 'Happy Diabetes Clinic.'
The results?
A total of 3,677 doctors have started the eCME so far of which 1,015 doctors have successfully completed the eCME and have received certificates. An additional 4,000 doctors have visited the eCME, and a few of them could potentially start the eCME later.
Of the 3,677 doctors, 62% doctors are from cities other than Mumbai, Delhi-NCR, Bangalore, Kolkata, Chennai, and Hyderabad – doctors who are otherwise relatively difficult to reach but still form a major portion of the Indian healthcare system.
Split of doctors by years of experience confirms that senior doctors are open to digital platforms and online methodology.
Split of doctors by experience (N=3,677)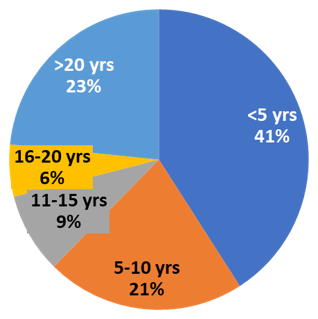 ---
How can you make your eCMEs more effective?
Now that we have covered some of the unique benefits and advantages of eCMEs, let us turn to the equally important question of what can you do to make them most effective.
There are 2 fundamental factors that impact the success of eCMEs:
Quality of content
Effectiveness of delivery
Here are some basic pointers on both:
Focus your content on application by using real-life case studies and practices. Make sure that your content is relevant and specifically applies to the Indian context and practice settings.
Plan the CME keeping in mind doctors' needs and the gaps in their knowledge. As an example (from the above eCME case study), modules that covered the softer elements of treatment such as effective patient communication and how a doctor can set up a 'Happy Diabetes Clinic' received the highest interest and positive feedback from participants. This is because these areas are rarely covered, even though they are no less important than clinical knowledge!
Create easy to consume content.

Support slides with video/audio and vice versa. Do not rehash content that was meant for face-to-face format.
Break the CME into short modules that doctors can complete in a go.

Use a simple and intuitive UI design that will enable easy navigation and lower dropouts.
Doctors get busy with their schedules. Improve completion rates by sending customised reminders.
Add FAQs on questions that are commonly expected about the course and a support team to help resolve queries or technical issues will give an edge.
Finally, in addition to delivering a high-value learning experience, try to offer other tangible benefits to participants such as CME credit points and certificate of completion from reputed medical associations to build both credibility and interest among doctors.
---
Click here to see references